The hockey news in Japan.
---
| Hockey | JIHL | National Team | Nagano info. | College Hockey | NHL |
---
1998

Fleury's flurry fires Flames past Sharks.(Oct. 12 Tokyo)
--Daily Yomiuri--

The first game between the Sharks and Flames, played on Saturday, ended in an evenly fought 3-3 tie.
On Sunday, however, Calgary outplayed San Jose for two of the three periods in a game punctuated with penalties.
Fleury's hat trick helped lift the Calgary Flames to a 5-3 victory over the San Jose Sarks at Tokyo's Yoyogi Gym.

| | |
| --- | --- |
| Oct.10 | Flames 3-3 Sharks |
| Oct.11 | Flames 5-3 Sharks |
NHL cools off on Japan for '99
NHL Senior Vice President Steve Solomon said Sunday,
"Slightly less frequently but regularly is the way to handle these games.
We're looking at European alternatives for next season, playing regular season games
for two consecutive years here is linked to the league's participation in the Nagano Olympics.
I don't regard the lack of well-known players on the two teams
as a factor in failing to sell out the games this weekend."
But 3,000 empty seats speak volumes.
Japan regains Asian Cup(Sep. 6 Tokyo)
AFP-Jiji ---

Japan scored three goals in each period to thrash South Korea 9-2 and regain the Asia Cup ice hockey cown.
The win allows the Japanease to retain their place in world championships Pool A next year.

Red Wings has kept Stanley Cup for two season on end to complete a four-game sweep!(Jun.17 Detroit)

| | |
| --- | --- |
| Jun.9 | Detroit Red Wings 2-1 Washington Capitals |
| Jun.11 | Detroit Red Wings 5-4(OT) Washington Capitals |
| Jun.13 | Detroit Red Wings 2-1 Washington Capitals |
| Jun.16 | Detroit Red Wings 4-1 Washington Capitals |
Sweden hold on to win world title.(May.17 Zurich)
(Reuters)---Sweden won the ice hockey world championship title on Sunday
after holding Finland to a 0-0 draw in the second leg of their two-match final.
their 1-0 aggregate win gave the Swedes their seventh world title and first since 1992,
when they also beat Finland to claim the gold.

Japan ends 0-W 3-L World Championship 1998(May.5 in Switzerland)

| | |
| --- | --- |
| May.1 | CZE 8-2 JPN |
| May.3 | GER 5-1 JPN |
| May.5 | JPN 4-6 BLR |
The 65th All-Japan Championship(Apr.14-19 Tomakomai)

| | |
| --- | --- |
| 4/14 | Kokudo 7-4 Crains |
| | Oji 6-0 SnoeBrand |
| 4/15 | Furukawa 1-6 Crains |
| 4/16 | Kokudo 4-2 Furukawa |
| | Oji 3-3 Seibu (PS 0-1) |
| 4/18 | Furukawa 3-4 SnowBrand (For 5th) |
| | Oji 5-4 Crains (Semifinal) |
| | Kokudo 4-3 Seibu (Semifinal) |
| 4/19 | Crains 7-4 Seibu (For 3rd) |
| | Kokudo 4-1 Oji (Final) |
MVP: John Tukker(Kokudo)
Kokudo wins JIHL title(Apr.4)
YOKOHAMA ---(Kyodo) Japanease Olympic team member Ryan Kuwabara netted the hat trick
to lead Kokudo to a 6-1 triumph over Yukijirushi on Saturday,
giving the Bunnies their first Ice Hockey League championship in three years.
Kokudo, which also defeated Yukijirushi 4-1 on Thursday, swept the best-of-3 games series
at Yokohama Skate Center for its eighth JIHL championship overall.

Kokudo and SnowBrand advance to Final(Mar.29)

Play off semifinal
3/26
Kokudo 4-2 Seibu
Oji 3-3 SnowBrand
3/28
Kokudo 2-6 Seibu
Oji 2-3 SnowBrand
3/29
Kokudo 6-2 Seibu
Kokudo&Oji,SnowBrand,Seibu advance to play-off semifinal(Mar.22)
JIHL regular season is over, Kokudo Bunnies keeps the top!
Smifinal will be held in 3/26,28,29. the team 2 wins advance to final round.
Final round will be in 4/2,4,5.

The Czech Republic edges Russia 1-0 to win
its first Olympic hockey gold medal.(Feb.22)
Petr Svoboda beats Russian goalie Mikhail Shtalenkov
for the game's only score and Dominik Hasek,
who allows just six goals in six Olympic games, is solid once again no goal.

Japan wins basement battle.(Feb.12)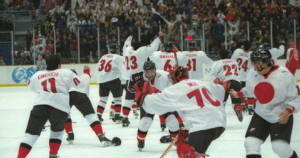 Shin Yahata lifted a backhander past Reinhard Divis in the eighth round of a shootout,
giving Japan its first Olympic hockey victory since 1976.
The 3-2 shootout over Austria, after a 3-all tie in regulation,
gave Japan 13th place in the tournament.

Kazakhstan & Belarus advance to medal round.(Feb.10)
Kazakhstan 4-3 Slovakia !!!!!
Japan  2-2 Belarus
Pre NAGANO exhibition matches.(Makomanai Sapporo)
Feb.1  Japan 1-3 Italy
Feb.1 France 5-4 Slovakia
Feb.2  Italy 5-3 Austria
    Feb.2  Slovakia 2-0 Austria
Feb.3 Japan 2-4 Austria
Team Germany does not need NHL players to beat Japan.
NHL players of Germany will not be able to take part in the game with Japan(2/7).
G.Kingston, head coach of team Germany, said "Though probably Japan may not beat Germany,
I want Japan to try hard in order not to disturb a dream of children."
Japan - Canada friendly series was over by 2 wins 1 lost 2 tie of Canada.
Canada team was made up of college and professional minor league players.
Jan.11 Japan 3-3 Canada
Jan.12 Japan 2-3 Canada
Jan.14 Japan 2-1 Canada
Jan.16 Japan 2-8 Canada
Jan.18 Japan 2-2 Canada
1997

Japan was defeated France in the Mont Blanc Cup tournament.

Dec.28   Japan 4-3 Swiss
Dec.29   Japan1-3 France
Japan beat France faced at Nagano Olympics in 5 to 3.(Nov.9)
It was a good news for Japanese ice hockey fan to have beat France National team faced at Olympics in 5 to 3.
National team has been to go to Mont Blanc cup December in France.
Japan 0-6 Swiss
Russia 5-2 France
Japan 3-8 Russia
Swiss 3-2 France
Japan 5-3 France
Russia 5-0 Swiss

Seibu-Kokudo was postponed in Fukuoka(Oct.22)
The match became postponement for the fog which appeared in the rink of Fukuoka.
The re-match is to be held in 1/20, Higashifushimi.
Welcome to JAPAN ,The Great NHL!

The Vancouver Canucks and Mighty Ducks of Anaheim has played its first regular-season games in Tokyo.(1997.Oct.4-5)
10/4 Cunacks 3-2 Mighty Ducks
10/5 Cunacks 2-3 Mighty Ducks
Super Mario gets early entry into Hall of Fame!(1997.Sep.11)

Lemieux was a three-time MVP and led the league in scoring six times.

Red Wings capture Stanley Cup 1997 !

Game1 : Detroit Red Wings 4, Philadelphia Flyers2
Game2 : Detroit Red Wings 4 , Philadelphia Flyers2
Game3 : Detroit Red Wings 6 , Philadelphia Flyers1
Game4 : Detroit Red Wings 2 , Philadelphia Flyers1

World Championships pool C 1997

Mar.21-29 in Estonia
Japan team went along to the final round by two wins 1 draw.


Final Round

Japan 1, Slovenia 4

Ukraine 2, Japan 2

As a result ,the Japanese order was 4th.
The 64th All-Japan Championship - Nagano, Big Hat
Kokudo checked 6 successive victory of Oji.
Mar. 6 Seibu 3 Snow Brand 0
Mar. 6 Furukawa 5 Cranes 1
Mar. 8 Seibu 0 Oji 3
Mar. 8 Furukawa 2 Kokudo 5
Mar. 9 3rd place game : Seibu 2 Furukawa 1
Mar. 9 Final : Kokudo 8 Oji 2
---
HOME | Hockey | JIHL | National Team | Nagano info. | College Hockey | NHL |
---